Dr. Glen Halva-Neubauer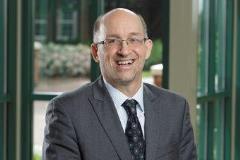 Glen Halva-Neubauer grew up on a dairy farm in Iowa. He was graduated from the University of Iowa (B.A., political science, 1980) and the University of Minnesota (Ph.D., political science, 1992). A specialist in state and local government and politics, he has taught at Furman University, Greenville, SC since January 1989.
In September 1995, Dr. Halva-Neubauer founded Furman's mock trial program. He joined the AMTA Board in 1999, serving as treasurer, Tournament Administration Committee chair, and President (2012-2014). Since 1998, he has hosted regional and ORCS tournaments in Greenville, South Carolina. Glen hosted the 2016 AMTA National Championship Tournament.