Rookie Rumble Mock Trial Tournament
---
What's New?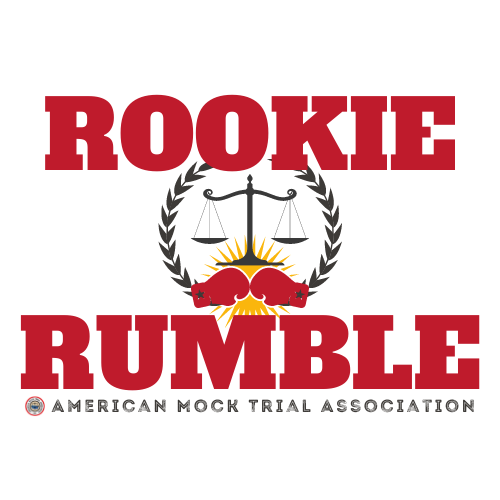 AMTA hosted the second ​Rookie Rumble Tournament on July 29-30, 2023! Congratulations to all who participated. For more information on the results, please click on "Summer Tournament Results" on the right side.
Stay tuned for more information on Rookie Rumble for 2024! The rounds will be held online and teams will consist of 4-5 members with only 2 witnesses testifying for each side. Most importantly, teams can be created regardless of school affiliation. Participants will also be allowed to sign up individually, as partial teams, or as full teams. We will match up individuals and partial teams together to form complete teams.
​
---

The Competition
Teams will consist of a maximum of five competing members, with the option of having an additional member as a Trial Technician. Two attorneys and two witnesses will compete per side. Teams that opt to include a Trial Technician can use that member only for the purposes outlined below in the eligibility rules, and not to fill speaking roles.
Time restrictions will be allotted per attorney rather than by speeches, directs, and crosses.
After four rounds, the top two teams will compete head to head in the Final Round.
---
The Fee
Nothing!
Free!
AMTA will not be charging any registration fee to any participant for this competition.
---
The Case
The case is now available here through the Case Manager.
All Schools who had access to AMTA's 2022-2023 case problem have access to the 2023 Rookie Rumble case for no extra charge.
---
The Rules
The Rulebook for the Rookie Rumble ​is available here.
General competitor eligibility is below, along with trial technician roles.
---
The Teams
Competitor Eligibility:

A competitor is eligible to compete at the Rookie Rumble Tournament if and only if the competitor:

Was a first or second year undergraduate student during the 2022-2023 academic year; and

Was listed on an AMTA roster for the 2023 competitive season.

Trial Techs Eligibility and Role:

Anyone who was rostered during the AMTA 2023 competitive season may serve as a Trial Tech.

Each team may have 1 non-competing member who will act as their trial technician to fill their 6th spot.


The trial technician would be responsible for document sharing and any other technological presentation during trial. The technician would also be allowed to communicate with the team during trials and breaks, but they are not a competing (speaking) team member, unless a competing member becomes sick/unavailable.

Competitors may pick their teams regardless of school affiliation. If you have ever wanted to compete with your best friends from another school, this is your chance.
If you are interested in competing and are not able to form a full team, AMTA will match you with others to create a full team. You can register as an individual or as a group of 2 or more competitors.
If your team composition drops below the minimum number of competitors before the competition, AMTA will attempt to match you with sufficient competitors to field a team.
---
The Registration
General Registration: Registration is now ​closed!
Alternate Registration: Given the interest in Rookie Rumble 2023, no alternate registration will occur.
---
The Location
All trials will take place online using Zoom.
---
This page will be updated with more information as we get closer to the opening of registration. In the meantime, please email us with any questions.