35th AMTA NCT Information Released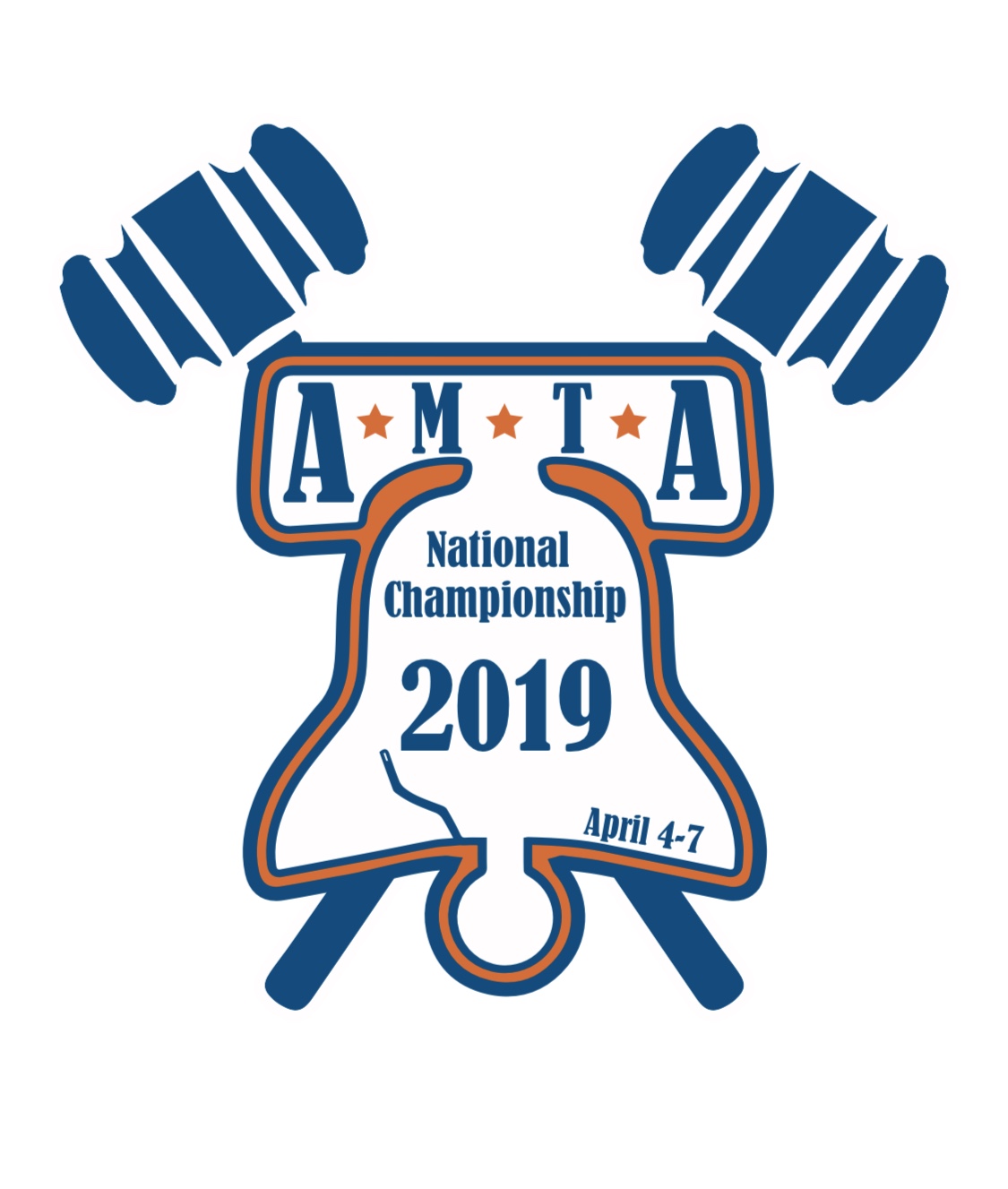 Mar. 4, 2019 - As ORCS get underway this week, AMTA has released logistical information about this year's National Championship Tournament in Philadelphia, Pennsylvania. For more information on the 35th National Championship Tournament, please see the NCT Tournament Page, which now includes a Judge Registration Form and a Tournament Schedule.
Please see the following message from our 35th AMTA National Championship Tournament host, Grant Keener and Elizabethtown College:
**********************************************
Greetings from the City of Brotherly Love! As you continue on the #RoadToPhilly in the coming weeks, I wanted to take a moment to share some exciting updates about AMTA's 35th National Championship Tournament. The planning committee has been hard at work for the past 18 months to plan an event that honors the hard work and accomplishments of AMTA's best teams.
Thanks to the generosity of our premier sponsor, the University of Florida Levin College of Law, as well as our other important partners, we are able to offer a variety of amenities to make your time in Philadelphia fun and memorable. Allow me to share a few highlights:
Thursday night Team Reception and Opening Ceremony at the Franklin Institute, one of Philadelphia's leading cultural attractions. Teams may tour the museum and mingle informally while enjoying a "Philly Feast" of cheesesteaks, soft pretzels and TastyKakes. The reception will be followed by the Opening Ceremony. The Reception and Opening Ceremony are sponsored by Kaplan Test Prep and Admissions.
Trials at the Criminal Justice Center, Philadelphia's large and modern criminal court building, located steps from City Hall and a short walk from the tournament hotels.
Championship Trial at Drexel University's Kline Institute of Trial Advocacy.
Affordable and convenient room blocks at the Philadelphia 201 Hotel (formerly Sheraton Philadelphia Downtown) and Residence Inn Center City. Both properties are part of the Marriott/Starwood portfolio. Rates are $159/night at the Philadelphia 201 and $149/night at the Residence Inn.
Scrimmage rooms are available at the Philadelphia 201 Hotel from 9:00 AM - 6:00 PM on Thursday, April 4 and from 9:00 AM - 3:00 PM on Friday, April 5. Scrimmage rooms are $250 ($125 per team) for three hours and may be reserved and paid for online (information will be provided by host after bid(s) are earned).
Large and experienced judging pool. Our goal is at least four (4) scoring judges per round, plus a non-scoring presiding judge. Temple Law is hosting free CLE classes for our judges.
Reception for Judges, Coaches and Tournament Staff at the Union League.
Other fun surprises to be announced…
On behalf of host Elizabethtown College and the entire planning committee, please accept my best wishes for success at ORCS. We look forward to welcoming you to Philadelphia!
Sincerely yours,
Grant Keener
Chair, 2019 NCT Planning Committee