---

Mock Trial Textbooks

---

NITA'S Mock Trials
By: Steven Lubet and Jill Koster
ISBN: 9781601563330
NITA, 2014
Price: $33.25 (After AMTA Discount)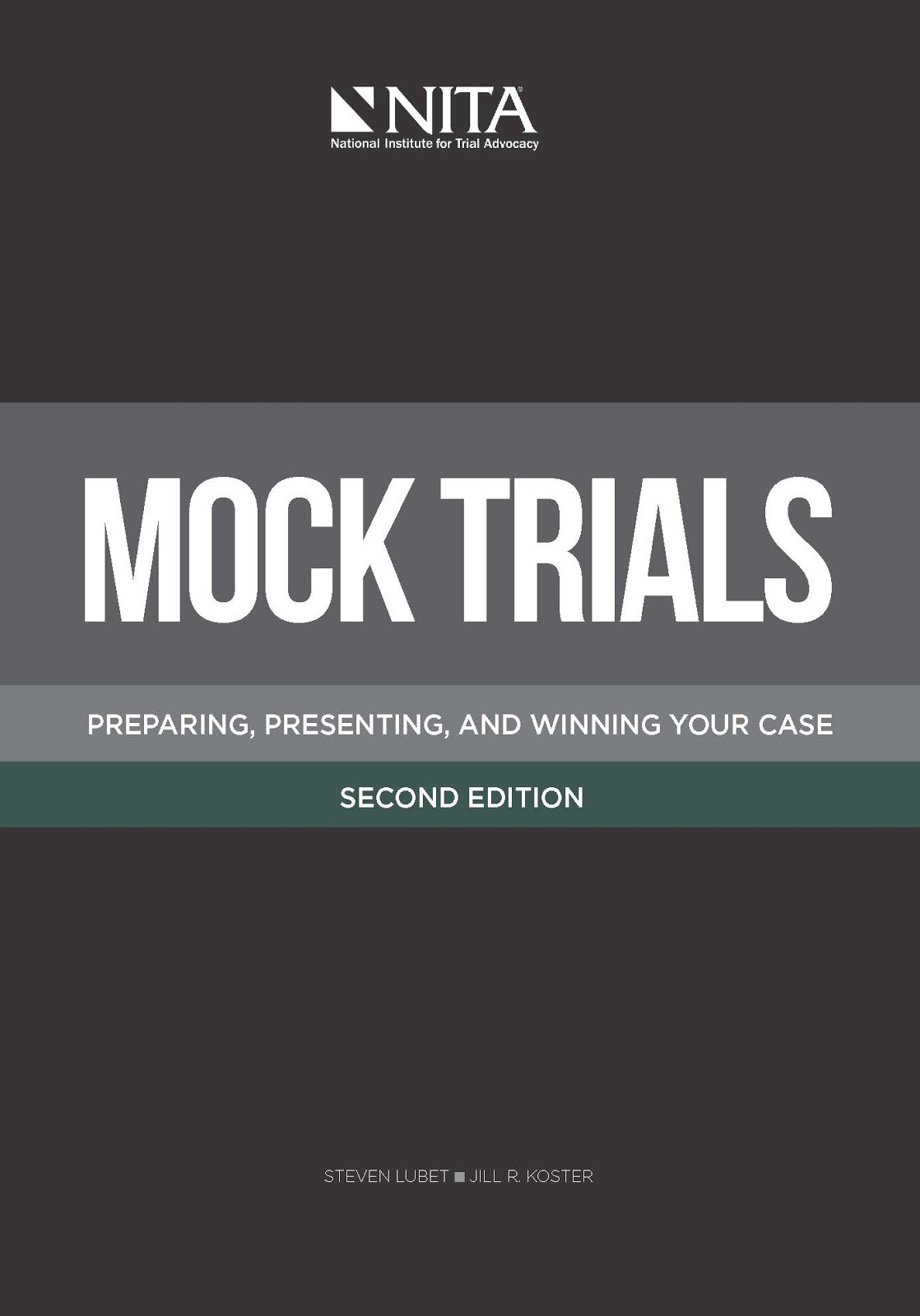 Co-written by a law school professor and a federal prosecutor, Mock Trials is the leading textbook used by students and coaches to prepare for mock trial competitions. Published by the National Institute for Trial Advocacy, the nation's leading provider of legal advocacy skills training to law students and practicing lawyers, Mock Trials provides a step-by-step guide to preparing to compete at the highest level. AMTA members will receive a discount on copies purchased via the AMTA Store, and AMTA itself will receive a portion of each sale.
I've used Mock Trials in my own teaching, and it's great. Highly recommended! - Gonzalo Freixes, Associate Dean and Professor, University of California-Los Angeles, member of AMTA's Coaches Hall of Fame, and coach of 4-time national champion UCLA Mock Trial
This is the best "how to" book about mock trial I've ever seen. If someone I knew was forming a mock trial team or teaching a mock trial class, this is the place I'd tell them to start. - Toby Heytens, Professor of Law, University of Virginia, and coach of 2-time national champion Virginia Mock Trial
Mock Trials has something for everyone. Beginners will appreciate the clear and easy-to-follow guide to getting started. Experts will find great tips for building a compelling case, crafting effective speeches, or writing great direct and cross examinations. I wish I had something like this when I was first starting out. - Justin Bernstein, President, American Mock Trial Association, member of AMTA Coaches Hall of Fame, and former coach of national championship winning NYU Mock Trial and UC-Irvine Mock Trial.
To purchase your copy of Mock Trials, click here.

---
Pleasing the Court: A Mock Trial Handbook
By: Dr. John R. Vile
ISBN: 967-1-285-11834-5
Cengage Learning, 2012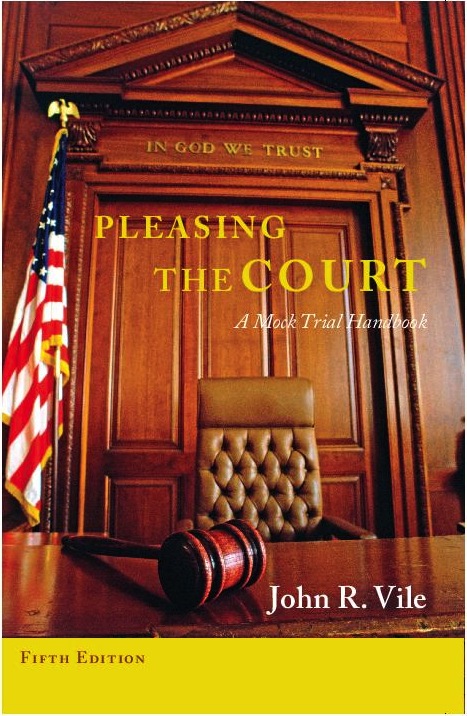 Cengage Learning is pleased to announce the publication of the fifth edition of PLEASING THE COURT: A MOCK TRIAL HANDBOOK.
Authored by a successful college coach, this handbook may be used either as a text in schools, colleges and universities that offer mock trial for credit or as an aid to students in institutions that offer mock trial purely as an extra-curricular activity. Although especially useful for new coaches and schools, this guide also provides insights for veteran mock trial students.
Learn tested and effective strategies for mock trial attorneys and witnesses.
Identify elements of good openings, closings, directs, and cross examinations.
Find how to conduct a voir dire, make an offer of proof, raise and respond to objections, and prepare and introduce exhibits.
Gain ready access to clearly stated explanations of mock trial rules
Pleasing the Court is authored by Dr. John R. Vile, Dean of the University Honors College and a long-time mock trial coach at Middle Tennessee State University. Vile has published numerous other books and is a member of the Board of Directors of the American Mock Trial Association. Pleasing the Court is available directly from Cengage Learning. Orders may be placed by e-mail at higheredcs@cengage.com, by phone at (800) 354-9706 and by Fax at (800) 487-8488. A portion of each sale goes to AMTA.
---
The Articulate Advocate: New Techniques of Persuasion for Trial Lawyers
By Brian K. Johnson and Marsha Hunter
ISBN-13: 978-09796895-0-5
Crown King Books, 2009
Price: $24.99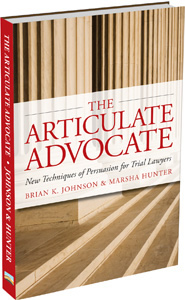 Now in its third printing, THE ARTICULATE ADVOCATE is valuable for a range of readers, including mock trial students and coaches. Your mock trial arguments will improve dramatically with the tips and guidance you'll find in this book. It's not a book about what to say in the courtroom, but rather, how to say it persuasively so you win! It answers common questions:
What do I do with my hands? Is gesture distracting?
I talk fast. How do can I slow down?
How do I use my adrenaline buzz in a positive way?
How can I break the habit of saying um?
Most importantly, this book will teach you techniques that will allow you to remember with confidence what to say to the judge, the jury, and the witnesses.
The resources and textbooks we have traditionally used covered the basic nuts and bolts of the trial process. The missing link in preparing students for mock trial competition was this very book. The sections that address the importance of what goes on outside the courtroom (how to prepare the mind/body; how to practice) are uniquely valuable. The Articulate Advocate was a welcome addition to our program."
Steven C. Kennedy
Kennedy & Kiss
Mock Trial Coach, Clark University
"The Articulate Advocate is an extremely valuable tool for mock trial coaches at all levels. It explains what the common pitfalls in public speaking are, why they occur, and then teaches how to spot those issues in students' deliveries. But the book goes one step further and also helps coaches devise exercises to resolve the speaking issues their students are having. In that sense, I urge every mock trial coach to read this book as it is a great asset."
Ryan Seelau, Mock Trial Coach for ten years at the junior high,
high school, collegiate and law school levels
THE ARTICULATE ADVOCATE is available from Crown King Books for $24.99. As a special bonus for AMTA members, we will include online access to two of our communication skills videos: Opening Statement and Closing Argument. These videos provide valuable instruction on making a strong first impression and a persuasive conclusion. (combined running time 16:21; unlimited access to the videos is included)
A portion of each sale made through the link below goes to AMTA. For more information, contact us here.
---
AMTA Graduation Cords
---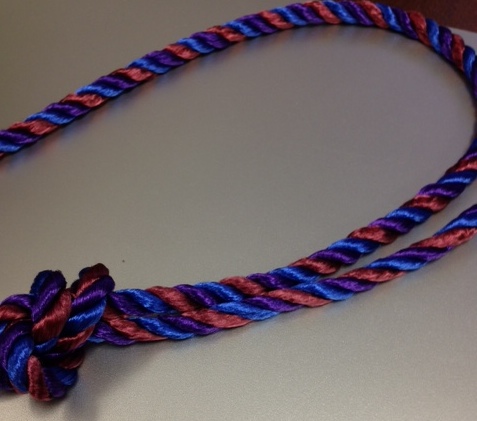 The AMTA Store is the only place to purchase the official graduation cord of the American Mock Trial Association. Cords can be purchased in any quantity ($12.00 per cord). If cords are purchased in sets of 10, you will get 10 cords for the price of nine. The official AMTA graduation cords are maroon, purple, and royal blue. After items are added to the PayPal cart, the quantity can be adjusted into any number.
All transactions are final. No refunds. Transactions will appear as "PayPal".